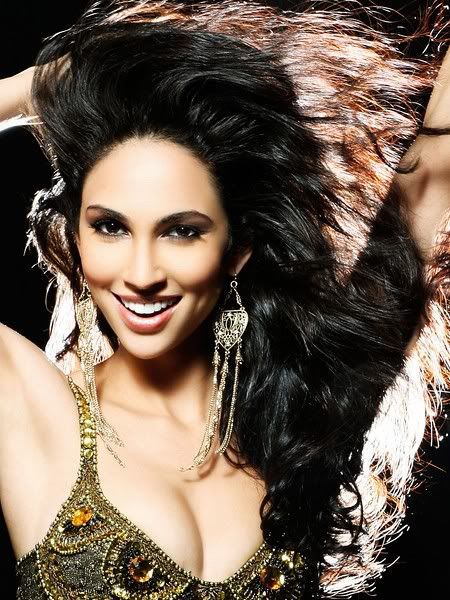 EL INFORMANTE DE ISRAEL, 06:41:50 09/25/11 Sun [1]
IF ONLY SHE WAS THERE....

Conducting a post-mortem analysis on the demise of the Malaysian campaign at Miss Universe is both unpleasant and unrewarding. Unpleasant because there are elementary mistakes in their campaign and unrewarding because there is nothing much they can do about it now. A very strong contestant like Debora Priya Henry comes once in a blue moon in Malaysia and to commit basic mistakes with her is like throwing away a million bucks to waste.

I know that so many theories were put forward - some of them are outrageously outlandish like taking a poke at religious aspects- as to why Malaysia failed to make the cut in this year's Miss Universe semis. But to let our imagination run wild is both irresponsible and risqué. Tackling many reasons without substantial evidence risks offending a lot of people and could even jeopardize Malaysia's chances in the future. That is why I salute to the reaction of the Malaysian press as well as of Miss Universe Malaysia Organization. They faced defeat with grace and a better-luck-next-time attitude.

The basic mistake of Debora at Miss Universe is, by the way I view it, treating Miss Universe like Miss World. I have already said it clearly in my post-prelims reviews that Debora did things by the book but unfortunately, the Miss Universe pageant is about innovation and about standing out from the crowd. Doing things by the book is synonymous to being boring for Miss Universe.

There are three categories by which the Miss Universe contestants are traditionally gauged. First, in the interviews, which by true standards, Debora really aced it. She spoke with clarity with obvious wisdom and good command of the English language. Unfortunately, Miss Universe had already evolved since the intelligent Lara Dutta won the crown. Miss Universe is looking for someone that can be engaging to talk to, focusing more on personality rather than intelligence. Debora is intelligent but she came off as detached and aloof. To impress the judges, a contestant should try to be more animated and engaging like Yendi Philips in last year's video interviews.

Second, the contestants are gauged in gown. During the prelims, the Misso correspondents are very clear in saying that Debora has the "Miss Universe title written all over her". I kind of agree because Debora is very queenly and regal. But what pulled her down dramatically is the design and color of her gown. There is nothing spectacular about it and the color choice is drab and this did not allow her to shine. Remember at the gown and swimsuit prelims, each candidate gets less than a minute to impress the judges.

The third category where the judges gauge each contestant is by the swimsuits. Debora has a great body and again her queenly and regal poses did not work in her favor. She lacks the so-called wow factor. Look at Miss Philippines Shamcey Supsup whose body is not really that spectacular but compensated it by making spectacular moves (now known as the tsunami walk). Similarly, Miss Jamaica Yendi Philips' relatively bigger thighs did not catch the negative attention of judges largely because she owned the catwalk back in 2010.

These are the basic areas the Miss Universe Malaysia Organization should focus on in the future. They need to shake things up like what Ines Ligron did in Japan. Already the Malaysian organization is struggling to survive in a nation with limited fan base and where beauty pageants are in the fringes of the national culture. To beat all the odds, Malaysia should up its own beauty boot camp. Above all though, they must not despair and lose hope. Patience, after all, is an essential virtue in conquering the Miss Universe pageant.
source:
http://www.voy.com/223702/